[fullwidth background_color="" background_image="http://ingeborrarp.se/wp-content/uploads/2014/09/friluftsmuseum.jpg" background_parallax="none" parallax_speed="0.1″ enable_mobile="no" background_repeat="no-repeat" background_position="center center" video_url="" video_aspect_ratio="16:9″ video_webm="" video_mp4="" video_ogv="" video_preview_image="" overlay_color="" overlay_opacity="0.5″ video_mute="yes" video_loop="yes" fade="no" border_size="0px" border_color="" border_style="solid" padding_top="110″ padding_bottom="110″ padding_left="0″ padding_right="0″ hundred_percent="no" equal_height_columns="no" menu_anchor="" class="centrera" id=""]
INGEBORRARP
One of the ancient villages in Rya parish, Örkelljunga Municipality. Experience the district's oldest preserved farm on its original site, in a beautiful heritage environment. Wander around the farm cottages and gain an insight into how people lived and worked here for generations, right up until 1954.
[/fullwidth]
[fullwidth background_color="" background_image="" background_parallax="none" parallax_speed="0.1″ enable_mobile="no" background_repeat="no-repeat" background_position="center center" video_url="" video_aspect_ratio="16:9″ video_webm="" video_mp4="" video_ogv="" video_preview_image="" overlay_color="" overlay_opacity="0.5″ video_mute="yes" video_loop="yes" fade="no" border_size="0px" border_color="" border_style="solid" padding_top="40″ padding_bottom="0″ padding_left="0″ padding_right="0″ hundred_percent="no" equal_height_columns="no" menu_anchor="" class="" id=""]
[separator style_type="none" top_margin="0″]
"The name of the village, Ingeborrarp, is derived from the woman's name Ingeborg, the final consonant G of which is silent in the local dialect. The final syllable arp is the Danish equivalent of the Swedish torp or croft. That a woman's name is the origin of a place name is unusual but may be connected with the fact that the village was once part of the Bjärsgård estate and it was perhaps the name of a family member."
Quote from the publication "Örkelljunga Hembygdsförening 75 år" (Örkelljunga Historical Association 75th Anniversary) 2006.
[separator style_type="none" top_margin="20″]
[one_half last="no" class="" id=""]
[separator style_type="none" top_margin="20″]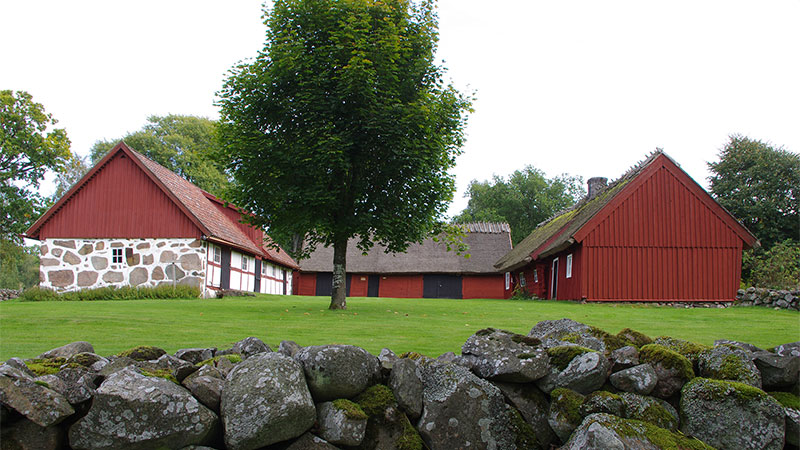 [/one_half]
[one_half last="yes" class="" id=""]
The Main House
The building, originally a log cabin, was built during the first half of the 18th Century and remains on its original site. Probably originally covered with a turf roof, this was later replaced by shingles, reed and thatch. The house is furnished with items from the local area.
The Barn
The barn was originally a corner post construction with horizontal sawn planks inserted in the corner posts. Within the barn there is a smaller carriage shed and an exhibition showing peat preparation in the area.
The Stables
The stables were erected in the 19th Century with a half-timbered front and the remaining walls in granite. When the building was renovated in 1968 a tiled roof was laid over the the existing shingles, which had in their turn replaced an earlier thatched roof. In the hayloft there is a permanent exhibition showing how agriculture was conducted in the district, from sowing to harvest.
[/one_half]
[one_half last="no" class="" id=""]
[separator style_type="none" top_margin="20″]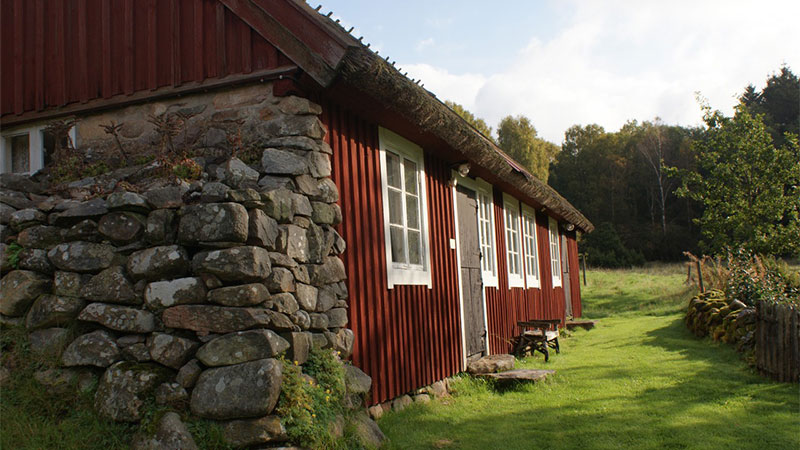 [/one_half]
[one_half last="yes" class="" id=""]
The Croft
The croft was reconstructed between 1977-1978, the original croft that stood on the same site having burnt down in 1955 as the result of a lightning strike. The original croft dated from the 19th Century. Built in granite with a corner post construction this was previously Ingeborrarp Farm's grace and favour cottage. Today it is used as the daily base of operations for Hälsa med Hästkraft, an Equine Therapy initiative.
[/one_half]
[one_half last="no" class="" id=""]
[separator style_type="none" top_margin="20″]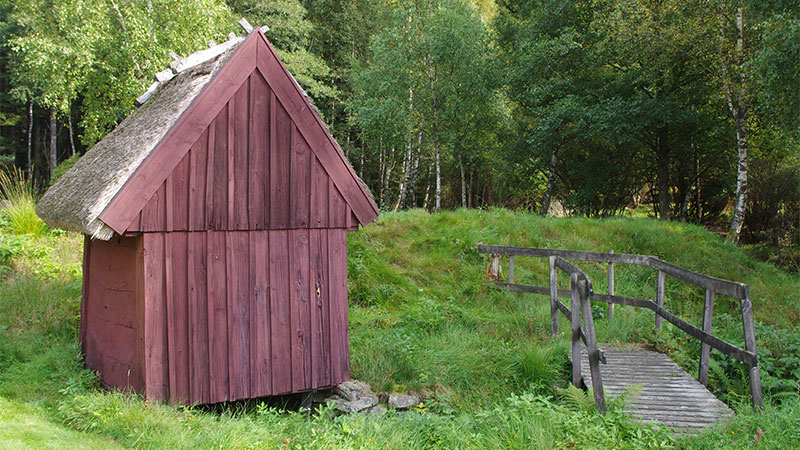 [/one_half]
[one_half last="yes" class="" id=""]
The Water Mill
Beside the brook to the east of the croft stands a water mill, reconstructed in 1983 at the same time as the mill pond was constructed. It was here that the farmers would grind flour. Generally, grinding was only possible at the mill during the spring and autumn when water was plentiful.
[/one_half]
[one_half last="no" class="" id=""]
[separator style_type="none" top_margin="20″]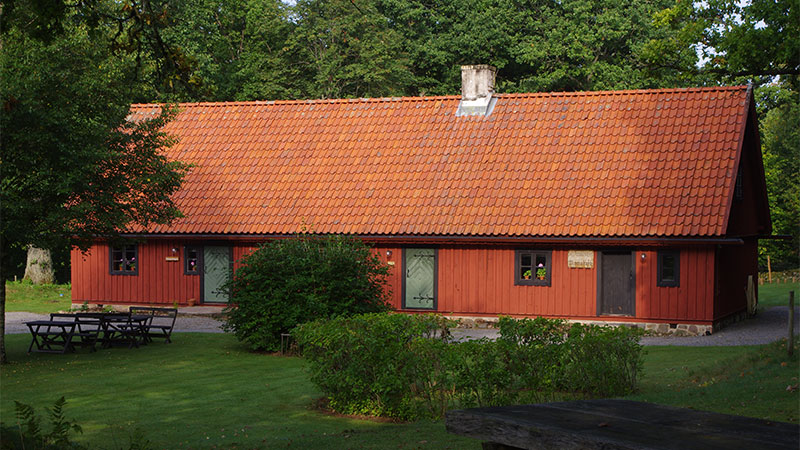 [/one_half]
[one_half last="yes" class="" id=""]
Slättsjö Cottage
This farm house was built in 1841 in Slättsjö, Röke parish and was acquired in 1937 by the local historical society. The cottage has a corner post construction with sawn pine planks. In conjunction with renovation, the building was insulated and electric heating was installed. Pantiles were laid on the roof and the external walls were fitted with new panels. Located on the upper floor is the society's textile exhibition while at one end of the building is a shoemakers furnished with tools from Hjalmar Paulsson's shoemakers in Örkelljunga.
[/one_half]
[one_half last="no" class="" id=""]
[separator style_type="none" top_margin="20″]
[slider width="100%" height="100%" class="" id=""]
[slide type="image" link="http://ingeborrarp.se/vardshus/" linktarget="_self" lightbox="no"]http://ingeborrarp.se/wp-content/uploads/2014/09/vardshuset-inne2.jpg[/slide]
[slide type="image" link="http://ingeborrarp.se/vardshus/" linktarget="_self" lightbox="no"]http://ingeborrarp.se/wp-content/uploads/2014/09/vardshuset-uteserv2.jpg[/slide]
[slide type="image" link="http://ingeborrarp.se/vardshus/" linktarget="_self" lightbox="no"]http://ingeborrarp.se/wp-content/uploads/2014/09/vardshuset-uteserv-mat.jpg[/slide]
[slide type="image" link="http://ingeborrarp.se/vardshus/" linktarget="_self" lightbox="no"]http://ingeborrarp.se/wp-content/uploads/2014/09/vardshuset-uteserv3.jpg[/slide]
[/slider]
[/one_half]
[one_half last="yes" class="" id=""]
The Inn
The new restaurant at Ingeborrarp was opened in 2003. The building is constructed of local timber sawn here on the farm. The Inn holds between 60-80 people and provides food for both everyday and special occasions.
[/one_half]
[one_half last="no" class="" id=""]
[separator style_type="none" top_margin="20″]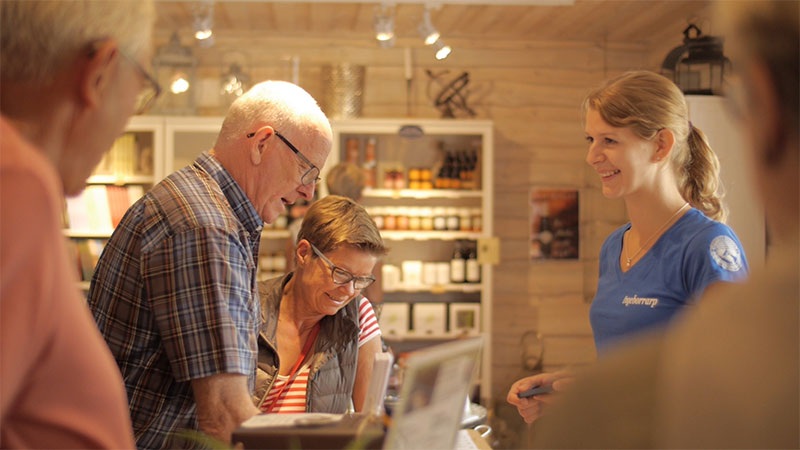 [/one_half]
[one_half last="yes" class="" id=""]
The new cabin – The Farm Shop
Following the construction of the Inn, the new cabin was erected beside the entrance to the Inn and Slättsjö Cottage. The cabin is constructed with corner posts in the traditional manner and today houses offices, reception and farm shop, known as the "Stable Shed" selling among other things the Society's books, lemonade, jam and local handicrafts.
[/one_half]
[one_half last="no" class="" id=""]
[separator style_type="none" top_margin="20″]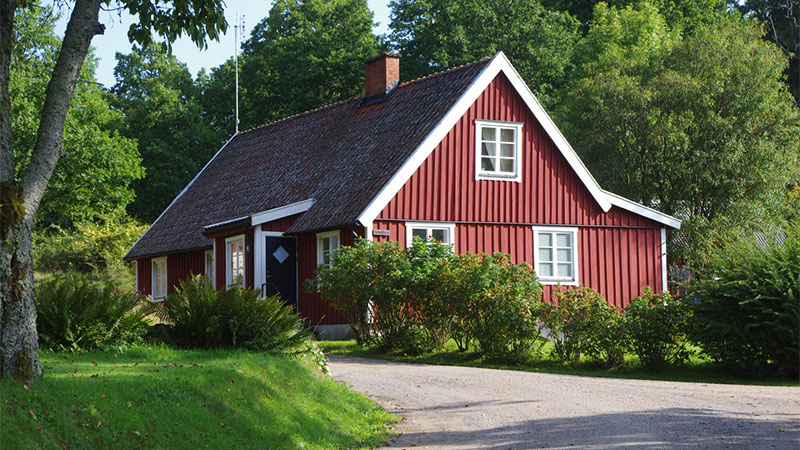 [/one_half]
[one_half last="yes" class="" id=""]
Krökatorpet (Crook Croft)
This dwelling was erected in the 1830s and has come to be known as Krökatorpet (Crook Croft) as it is situated on a crook in the road approaching Ingeborrarp. The building underwent an exterior renovation in 1991 and is these days privately rented.
[/one_half]
[one_half last="no" class="" id=""]
[separator style_type="none" top_margin="20″]
[slider width="100%" height="100%" class="centrera" id=""]
[slide type="image" link="" linktarget="_self" lightbox="no"]http://ingeborrarp.se/wp-content/uploads/2014/09/smedjan-1.jpg[/slide]
[slide type="image" link="" linktarget="_self" lightbox="no"]http://ingeborrarp.se/wp-content/uploads/2014/09/smedjan-2.jpg[/slide]
[slide type="image" link="" linktarget="_self" lightbox="no"]http://ingeborrarp.se/wp-content/uploads/2014/09/smedjan-3.jpg[/slide]
[/slider]
[/one_half]
[one_half last="yes" class="" id=""]
The Forge
The Forge is equipped with a double forge and has been furnished on one side as a village blacksmiths and on the other as a mechanical workshop. At the entrance the original horseshoeing stand has been reconstructed. On the upper floor there is a museum showing the extraction and smelting of iron ore. The furnace, dating back to the 13th Century, is originally from East Ringarp.
[/one_half]
[one_half last="no" class="" id=""]
[separator style_type="none" top_margin="20″]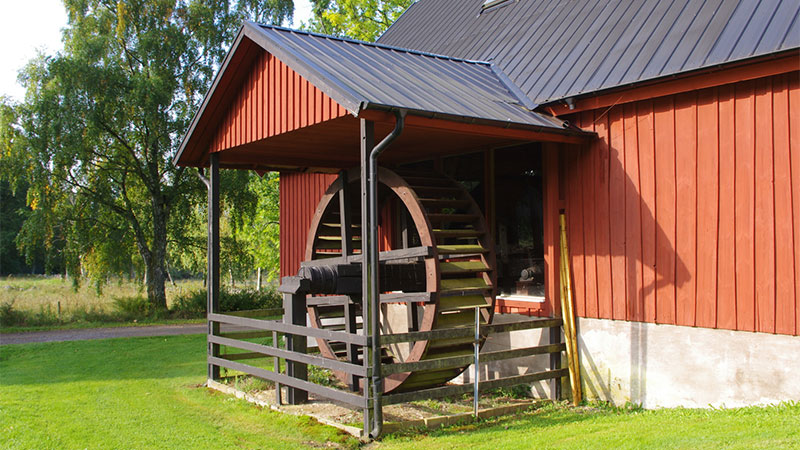 [/one_half]
[one_half last="yes" class="" id=""]
The Timber Museum
On the ground floor, previously used as a barn, there is a sawmill with a water-driven saw that was transported here from Vångamöllan (Lärkesholm). Prior to the existence of water-driven sawmills cross-cut saws were used. These are also displayed alongside three different types of house construction using logs, corner post and timber with various roof coverings. Above the earlier stable is the handicraft loft displaying the wide variety of wood crafts practised in the area during the years 1750 to 1950.
[/one_half]
[/fullwidth]